Film Zone Inc. is a non-profit organization whose mission is to promote French-language cinema and to make it accessible to Francophones and lovers of French-language films from New Brunswick and Atlantic Canada while increasing the visibility of Acadian cinema, both here and throughout the French-speaking world.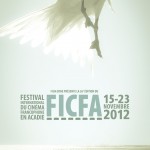 Since 1992, Film Zone has devoted a lot of energy into developing the FICFA or Festival international du cinéma francophone en Acadie (trans.: International Francophone Film Festival in Acadia).
Based in Moncton, New Brunswick, the FICFA attracts nearly 20,000 people each September and presents francophone Acadian films, a number of fiction films from Quebec and other countries as well as documentaries and animated films. For the past eight years, Film Zone has widened its audience by organizing the FICFA Tour, a partial program of FICFA films presented in several cities throughout New Brunswick and Atlantic Canada during the Festival.
The Media Arts expo, presented in Moncton during the FICFA, compliments the festival's program and attracts more and more visitors every year.
Over the years, the FICFA has built up a faithful following. It has since offered more levels of programming subtitled in English in order to reach the region's French-language film buffs. In addition, the festival has developed a series of film screenings for the Greater Moncton area's schools during the festival which it expanded to cover Fredericton and Saint John in 2008. Over 6,000 youths receive a quality program every year.
With an environment conducive to exchanges, the FICFA introduced in 2008 a professional component to its program. During the festival, producers, directors and other craftsmen of the region gather together in Moncton in order to meet distributors and other industry professionals who are present, including the main financial supporters of the sector. The FICFA is an ideal place for networking and making new contacts in the local industry and offers learning opportunities and more formal exchanges.
Finally, Film Zone has set in place a number of partnerships over recent years in order to produce year-round activities and provide services related to the dissemination of French-language cinema and to the development of our audiovisual industry:
Zone Doc, a weekend of free screenings of award-winning documentaries
Zone Courts, a selection of the best French-language short films
Post-INPUT Acadie, an event geared toward industry professionals, allowing them to discover the best productions of public television from all the world and to discuss the overall direction and trends of international television
Promotion of French-language films scheduled at Crystal Palace Cinema in Dieppe
Partnership with the children's film festival, Carrousel International du film de Rimouski, in order to offer workshops in several schools in New Brunswick
Hosting the Tournée des Rendez-vous du cinéma québécois in Dieppe and Moncton
Film Zone Inc.
Centre culturel Aberdeen
Address: 140 Botsford Street, suite 27, Moncton (NB)E1C 4X5
Telephone: (506) 855-6050
E-mail: [email protected]