The Galerie Sans Nom (GSN) first began in 1977 in a situation of protest when students in the Visual Arts department at the University of Moncton had the exhibition of their final thesis project judged inappropriate by the administrators.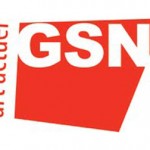 The GSN was thus created in order to present the current trends that have no place elsewhere. On November 13, 1979, the Galerie Sans Nom officially became a cooperative organization. Filling a void, the GSN became a laboratory where all disciplines in contemporary visual art are respected.
Then in 1982, the creation of the Salle Sans Sous allowed the GSN to support and present emerging artists.
The only Acadian infrastructure dedicated to the presentation of contemporary Canadian art, the GSN now manages three places for exhibition with programming that addresses new practices in visual arts and multimedia arts, among other disciplines.
For over thirty years, the GSN has been of a considerable influence while welcoming artists from all areas of Canada, the United States, Latin America, Europe and Japan, as well as distributing Acadian art throughout the country and world, thanks to touring exhibitions like, Expo Quinze, Itinéraire 12 and Géographie du regard and demonstrations like Leurre juste and jè-st'.
Recognized as a resource centre dedicated to the production of contemporary Acadian visual art, the Galerie Sans Nom participates in a multitude of renowned projects and events that contribute to the development of the Acadian community and to the advancement of the arts in Canada.
Since the end of the 1980's, the GSN has been located in the Aberdeen Cultural Centre, associating with around thirty cultural organizations and artist studios and participating in one of the most remarkable cooperatives in Canada. The GSN also holds activities in other places and collaborates with other organizations in order to reach a large and diverse audience. The GSN endorses the initiatives of artists and extends its activities to a variety of disciplines in order to respond to the changing needs of a diverse community in a growing urban environment.
Mandate
The mandate of the Galerie Sans Nom (GSN) is to facilitate encounters with contemporary art in all of its forms, in a context of professional presentation in order to engage and confront the public, in and beyond the walls of the gallery, with local, national, and international artists.
Mission
To present exhibits or interventions that reflect current tendencies in contemporary art and curatorial practices at a local, national and international level; To welcome artists from around in the world into an Acadian context that is at once diverse and inclusive.
To be a mediator between the public and the artists (a place for both to gather and exchange in a convivial manner);
To offer diverse platforms of diffusion; exhibition spaces, unconventional spaces, special events, etc;
To engage with the public and the community through discourse and dialogues on contemporary art practices, while playing an important role in the development of a pertinent critical discourse on contemporary art in Acadia as well as elsewhere in Canada;
To encourage harmonious relationships and to create a context that encourages collaborative encounters between francophone and Anglophone communities (among others) while maintaining primary operations in French.
To participate in the development of the local cultural scene, supporting collaborations that favor interdisciplinary.
Values
Professionalism
Artistic excellence is always a central to our initiatives;
We are a professional art gallery, and we therefore support professional artists and curators;
We pay artists fees that have been established by the following national organizations; CARFAC, SOCAN and the IMAA;
We strongly support the professional development of artists;
We believe that our employees should be paid adequately, in relation to their experience, roles and responsibilities;
The GSN recognizes the essential role that is played by volunteers.
Experimentation
We support projects and practices that investigate and experiment in all disciplines;
Site-specific creation is encouraged and supported.
Renewal
Social commentary and social engagement is of great importance to the GSN;
We encourage stimulation of exchange as well as critical discourse;
We recognize that controversy is a part of contemporary art and we therefore value freedom of speech;
Emerging artists benefit from committed support from the GSN.
Inclusion and openness
Participation from diverse communities is perceived as an asset;
We maintain and develop relationships with other cultural and community orientated organizations;
A local, regional, and national presence in the contemporary art community is important to the GSN;
We advocate for artists and for the arts;
Relationships within the community are constantly maintained and developed;
We form partnerships with other organizations and festivals.
Integrity
Ethics, transparency and honesty guide our practices;
We act with respect and understanding in all of our relationships;
Sound financial management provides structure and guides decisions at the GSN;
We value excellence in our artistic direction;
We invest in the professional documentation of projects;
We value the recognition of our partners, sponsors and donors for their support.
Located in Moncton, New Brunswick, GSN has a diverse membership that includes francophone and anglophone artists as well as artist of other cultures, mostly from New Brunswick but also from Quebec, Newfoundland-and-Labrador, Prince Edward Island and Nova Scotia. The centre is particularly concerned with providing support to emerging and next generation artists and ensuring their integration and participation. While its communications are in both official languages, Galerie Sans Nom enhances contemporary francophone and Acadian culture and participates in its presentation at the national level.
GSN is affiliated with associations of artist centres and arts organizations, including AARCA: The Association of Artist-Run Centres from the Atlantic, and the national Association des groupes en arts visuels francophones (AGAVF), to better represent its community on the public scene and at various levels of government.
Galerie Sans Nom Coop Ltée
Attention: Amanda Dawn Christie. directrice
Address: Centre culturel Aberdeen 140, rue Botsford, suite 12b Moncton (NB)
E1C 4X5
Telephone: (506) 854-5381
E-mail: [email protected]
Website: www.galeriesansnom.org