Established in Moncton in 1988, Phare-Est has been closely involved in the emergence of Acadian cinematography. Up until the present, the company has especially been known in the fields of auto documentary and docufiction.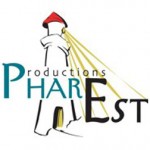 Its main distributor is Radio-Canada/Le Réseau de l'information, occasionally in association with TFO, Canal D or Télé-Québec.
The sixty some odd titles to its credit also include full-length films, youth and documentary series, as well as short fiction film. All testify to a quest for excellence, which has become the distinctive mark of the company. The coming years promise even wider array of important projects for Phare-Est, both fiction and documentary, new partners and new distributors.
Filmographie
2003, 1604 Durelle
2001 Ceux qui attendent (Burnt Church) Le sourire du parcomètre (Série Entrée côté court)
2000 Anna Malenfant d'Acadie
1999 Cher Père Noël Lunatiques Le temps x
1998 The shed next door
1997 Reaper David Adams Richard : My own rivers The secret life of Algernon
1996 Warrior songs : King Gesar
Le sea king au Canada et dans le monde
1994-95 Le grand dérangement Les années noires
L'Acadie retrouvée
1994 La rencontre
1993 Acadie / libertéHépatite B et le sida (comment ne pas contracter la maladie)
1992 L'Acadie de la mer Au mitan des îles Marchand de la mer
Les pinces d'or
Un jardin sous la mer
1990 Les chroniques de l'Atlantique Moncton / Acadie
Le taxi Cormier
À cheval sur une frontière
L'âme sœur
Productions Phare-Est has two producers at its disposal, Cécile Chevrier and Gilles Losier.
Productions du Phare Est
Attention: Cécile Chevrier ou Gilles Losier
Address: Centre culturel Aberdeen 140, rue Botsford, suite 20, Moncton (NB) E1C 4X5
Telephone: (506) 857-9941
Fax: (506) 857-1806
E-mail: [email protected]